Aug 27, 2015, 9:49am EDT Marty Finley, Reporter, Louisville Business First
The Aloft hotel at the corner of Main Street and First Street in downtown Louisville is on track to open Nov. 1.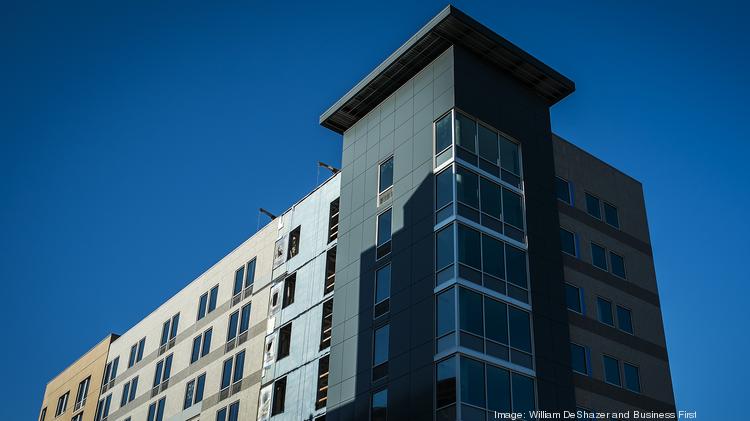 Louisville will add 175 more rooms to its downtown hotel stock before the major holidays descend later this year.
Developer Steve Poe, of Louisville-based Poe Companies LLC, said the eight-story Aloft hotel under construction at First and Main streets should be ready for occupancy by Nov. 1. That was the original date Poe proposed late last year.
He said most of the rooms are finished and construction crews are finishing up construction of the first floor, with work still needed to flesh out the hotel's streetscape. He expects to take possession of the property by the end of September. Louisville-based Whittenberg Construction Co. is the general contractor on the project.
It then will take several weeks, he said, to outfit the hotel with furniture, equipment and supplies and to train staff. During an interview, Poe said did not have an estimate on how many employees the hotel will have.
The property is being developed by Poe and Indianapolis-based REI Real Estate Services. It will be managed by Merrillville, Ind.-based White Lodging Services Corp.
As Lousiville Business First reported late last year, the $24 million Aloft is being developed on the former Marine Electric site, which had been vacant and on the market since the longtime electrical contractor went out of business in 2011.
Poe said about 65 percent of the rooms will have king-sized beds, and the rest will be a mix of double queens or suites.
The hotel also will have a fitness center, meeting room space and a bar.
One interesting concept Poe has in mind for the hotel will include glass walls at street level that will open, allowing the bar to be moved out onto the sidewalk. There also will be outdoor seating on the sidewalk. "We think it will really do a good job of activating First and Main," he said.
Aloft is a flag of Stamford, Conn.-based Starwood Hotels & Resorts Worldwide Inc. (NYSE: HOT).
As we reported earlier this week, a 126-room Aloft hotel under construction on Westport Road in Louisville's East End is aiming for opening before the 2016 Kentucky Derby, but that start date could be delayed until sometime next summer. Lexington developer Patrick Madden is leading construction of that hotel.
Beyond Louisville, Poe is involved in the development of a dual-branded Aloft and Element Hotel complex in Austin, Texas, which he confirmed to Louisville Business First Thursday.
According to this article by Hospitality Net, the 32-story complex in Austin will feature the 278-room Aloft Austin Downtown and a 144-room Element Austin Downtown. Both should open by summer 2017. The two Austin hotels are owned by an affiliate of White Lodging, REI Real Estate and Poe Companies, the story said. White Lodging will manage the properties.